Discover more from AI@UIUC Newsletter
The Best Place for Organization Updates
Over 1,000 subscribers
🎈 2nd EES Recap! + Mindy Beta!
🎶 They say that life's about balance, baby, and the balance is in my account now 🎶
Great to see everyone at this semester's EES! We had a great turnout this time around, and some even greater pizza right after! If you just happened to miss it, the slides of each group can be found right here:
https://docs.google.com/presentation/d/1byFFfGdq3qC3Xhd_wj1qlzG3FLcqSDPidWXJ0Zb3RTA/edit?usp=sharing
---
Additionally, as some of you may already know, two of our students were offered, and accepted, the opportunity to take the semester off to work at a VC-backed AI startup based out of San Francisco founded by some of the first/founding engineers that built PayPal and YouTube.
Mindy is an AI-powered personal assistant that works through email chains and threads.
While it is in very early development, we are happy to give beta access to all students who registered for the EES.
Mindy can:
Write emails for you

Summarize and give valuable insights based on chains of email threads

Execute deep Internet searches

Set reminders

Provide analytics

and much much more
Every student who registered for the event should have received an email from our organization's Mindy (m+aiuiuc@mindy.com). Feel free to reply to that message (or contact Mindy directly) to ask any questions about our organization, the EES, and practically anything else.
We encourage students to have fun with Mindy and use her in their day-to-day lives! Once you've replied to the email, and received a welcome email from m@mindy.com, feel free to Cc, Bcc, or directly contact her for any tasks as you see fit.
After 2 weeks, the student with the most creative use case of Mindy will receive a yet-to-be-unveiled prize from the Mindy team.
Go crazy!
---
Photos from the event!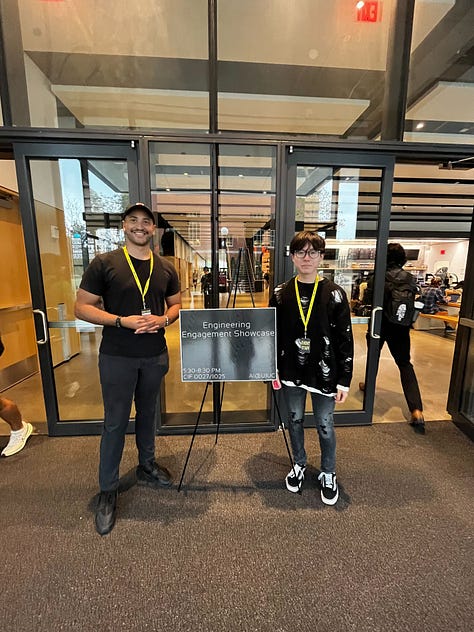 ---
Local Artist Spotlight of the Day (Joseph Rund) www.hdxplor.com
Thanks for reading AI @ UIUC Newsletter! Subscribe for free to receive new posts and support our work.